eBulletin - 10 March 2017

Vol 3 No 4
We recommend that you view the eBulletin in your browser.
MEN'S HEALTH WEEK 2017
Men's Health Week 2017 takes place from 12-18 June and provides a fantastic opportunity for Global Action on Men's Health and all its members to highlight our key issues.

This year, as well as supporting the efforts of our members around the world, GAMH is keen to make an impact in its own right.

To help us develop our activities, we are inviting members to join a Men's Health Week Planning Group. If you would like to be involved, please let us know as soon as possible at office@gamh.org.

Also, send us your own Men's Health Week plans so they can be shared with other members via this eBulletin and the GAMH website.
New members
We're delighted to welcome Tracy Herd as our latest individual member. A former Deputy Chief Executive of the Men's Health Forum (UK), Tracy is currently working as an independent health improvement specialist for the European Men's Health Forum and with RBE Associates.

Details of all GAMH's members can be found here.

GAMH now has over 30 members, both organisations and individuals, and is keen to recruit more. Please do what you can to spread the word about GAMH and let us know of anyone you think we could contact.
GAMH projects

GAMH is seeking funding for the production of a report on the state of men's health globally so please contact us if you have any ideas about potential funders.

This report will help to put GAMH on the map as well as support our advocacy work. We will aim to involve as many members as possible in its development.
News



Important new men's health article in Journal of Global Health
If the UN's Sustainable Development Goal (SDG) on health and well-being is to be met, significant improvements in men's health will be needed, according to GAMH Director Peter Baker and GAMH member Tim Shand in a Viewpoint article published this month in The Journal of Global Health.

Globally, male life expectancy at birth, at 68 years, currently lags five years behind female life expectancy and the global 'gap' is predicted to increase over the next 15 years. Men are more likely than women to die prematurely from NCDs, to die from suicide, to smoke, to drink at hazardous levels and to die on the roads. Their use of sexual and reproductive health services, including for HIV and contraception, is often poor. The SDG commitments, if successfully implemented, would therefore be particularly beneficial to the health of men and boys across the world; equally, they cannot be optimally realised without an approach that takes account of the specific health needs, attitudes and behaviours of men and boys, and perceives addressing this area as a pathway to better wellbeing and equality for all. At present, such an approach is not reflected in policy and practice. Only four national governments (Australia, Brazil, Iran and Ireland) have developed national men's health policies and the issue is almost entirely absent from the agendas of international public organisations, including the WHO.

For progress to be made, Peter and Tim consider that global health organizations and national governments should, as part of a comprehensive approach to gender and health, address the health and well-being needs of men and boys in all relevant policies (e.g. on obesity, cardiovascular disease and cancer) and through the introduction of specific men's health policies in more countries.

Educational programmes in schools and male-targeted health information can be used to encourage and support boys and men to take better care of their own health. Health practitioners must inform themselves about the psychosocial aspects of men's health, as well as male-specific clinical issues, and medical training programmes should cover gender and other social determinants of health. Workplaces also have a key role, in terms of not only reducing exposure to hazards but also providing a setting for health promotion.

GAMH members are urged to share the article as widely as possible to ensure that it reaches a wide audience.



Other news



The new Centre for Gender and Global Health was launched last month at University College London. A full report on the event can be found here. GAMH member Dr Matthew Maycock presented a paper on Masculinities and Health and Professor Benno de Keijzer presented a keynote on Masculinites, Health, Resistance and Change. Both presentations are available on the Centre's website.

Significant improvements in male life expectancy are expected in 35 industrialised countries by 2030, according to a new study published in The Lancet. There is an at least 95% probability that men's life expectancy at birth in South Korea, Australia, and Switzerland will surpass 80 years in 2030, and 27% that it will surpass 85 years. Men in South Korea and a number of central European emerging economies like Hungry and Slovenia are projected to make large gains, as are men in Denmark, Ireland, and a few other western European nations. The USA, Japan, Sweden, Greece, Macedonia, and Serbia have some of the lowest projected gains for men.

A new systematic review of the current scientific evidence on early infant male circumcision published in the World Journal of Clinical Pediatrics finds the protection afforded by against infections and other adverse medical conditions exceeds the risks by 200 to 1 and that over their lifetime over half of uncircumcised males will suffer an adverse medical condition caused by their foreskin. It also suggests that there is strong evidence for no adverse effect on penile function, sexual sensitivity or pleasure and, controversially, concludes that circumcision is a desirable public health intervention and, moreover, is cost-saving. The authors are dismissive of legal and human rights objections to infant circumcision.

The WHO has recently published new global data on suicide. Suicide accounted about 1.5% of all deaths worldwide, bringing it into the top 20 leading causes of death in 2015. The suicide rate varies by WHO Region and by sex, ranging from below 5 per 100 000 population among females in low- and middle-income countries of the Eastern Mediterranean and American Regions, to 15 or more among males in high-income countries and low- and middle-income countries in Europe and South-East Asia.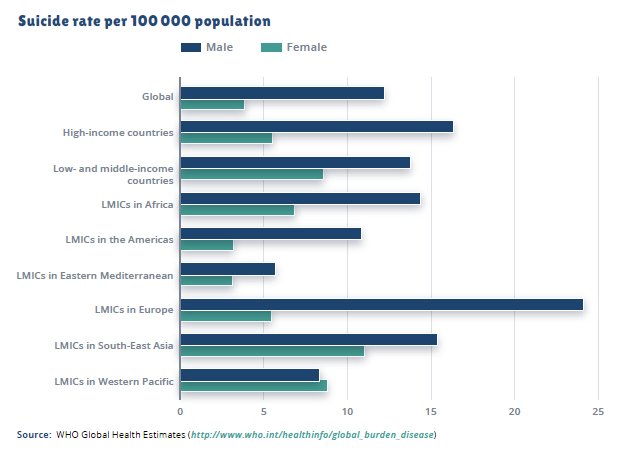 Men are being overlooked by international aid organisations, according to an article in The Guardian. It states: 'Despite cries that gender is as much about men as it is about women, most project proposals or documents referring to gender will mention women, but little about men. If they do talk about men, they do so in terms of their relations with and respect for women., Men have as many issues as women, we just don't know what they are.'
Looking for good global health journals? There's an excellent review of what's available, including on open access,

here

.
The doctor's waiting room - a man's view (MHIRC, Australia).
If you have any photos or illustrations that GAMH can use in this eBulletin or in other ways, or any information you would like to share with fellow members, please let us know.

If you are an organisational member, let us know if you would like one or more of your colleagues to receive this eBulletin.

Please follow GAMH on Twitter @globalmenhealth and retweet whenever possible.
Global Action on Men's Health
c/o Men's Health Forum
32-36 Loman Street
London SE1 0EH
United Kingdom
www.gamh.org