REGISTER TODAY!
2022 LEADERSHIP CONVENTION
OPEN TO ALL MEMBERS & NON-MEMBERS!
The 2022 Leadership Convention, a 3-day conference, will be held in Washington, D.C. this August! Help us celebrate
NAAAP's 40th Anniversary
by attending our biggest event of the year! A must-attend event for API professionals who are interested in professional and leadership development. Get a chance to hear and meet our top Keynote Speakers, participate in professional development workshops, expand your network and most of all, have fun in our nation's capital!
An all-inclusive pass includes access to all sessions including:
ERG Summit
All Keynotes and Workshops
Diversity Career Fair
Gala
TAKE ADVANTAGE OF OUR EARLY BIRD REGISTRATION UNTIL MAY 1, 2022.
PARTNER WITH NAAAP!
2022 LEADERSHIP CONVENTION SPONSORSHIP PACKAGES
We always appreciate our NAAAP Partners! You get an abundance of benefits partnering with us.
A sponsorship package includes*:
All-Access Pass (Including Gala Dinner)
Page Feature in the Convention Program Book
Hyperlink Logo On NAAAP Website
Dedicated Email Marketing Social Media Campaign
Feature Career Fair Exhibitor Booth 5
Annual Career Center Job Listings
90 Day Access to Resume Search in NAAAP's Career Center
* Sponsorship packages vary. Click on button below for more information.
NOMINATE A SPEAKER!
THEME
The 2022 Convention theme is "Limitless Leadership," thus we are looking for contributors who have truly lived this theme of breaking free of societal- or self-imposed restrictions to take risks and assert themselves as change agents, innovators, and game changers.
CRITERIA
Our speakers may be of any race, ethnicity, and organization, but we will give preference to speakers who can speak authentically to the Asian North American or Pacific Islander experience or who represent one of our sponsors and partners. Nominees should possess deep knowledge of and passion for their subject matter.
PRESENTATION REQUIREMENT
Nominees must be available to speak for about 1 hour. They should prepare an introduction, a presentation with optional interactive exercises, and for a Q&A. Preference will be given to nominees that offer interactive exercises.
EXPECTATION
Be engaging and inspiring speakers.
The Convention will be in Washington, D.C. in person, so your nominee needs to be able to travel if they are not local to the area.



Below are two speakers who will be at the convention!
David Liu will be an Aug. 12 keynote on "How I Conquered the Corporate Game as an Asian American.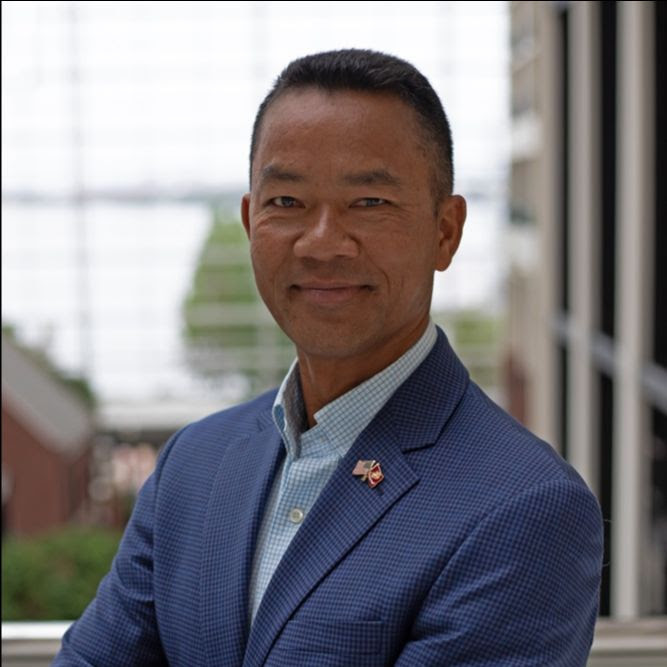 Mike Lanpolsaen, Sergeant Major, USMC (Ret.) will be on the panel for "Breaking the Barrier: Real People, Real Experiences"
FINANCIAL LITERACY CONFERENCE FOR YOUNG LEADERS
We invite DMV college students to our
Financial Literacy Conference for Young Leaders
on Saturday, April 23 at 10:30 AM ET at George Washington University. This conference is in partnership with Bank of America's Asian Leadership Network and George Washington University's Chinese American Student Association (CASA)! This conference aims to help students take control of their finances and will feature:
💰 Sessions on various financial topics
💸 Career panel session
💼 Finance experts from NAAAP DC and Bank of America
📚 Resources for you to take home!

Space is limited so be sure to RSVP soon!

VOLUNTEERS NEEDED!
We are looking for volunteers who can serve as speakers on our career panel (from any professional background) or our various Finance related sessions (professional background in the Finance topic is required).
WEDNESDAY, APRIL 27, 2022, 7 PM ET


MAKING MOST OF THE HYBRID WORK ENVIRONMENT
On Wednesday, April 27 at 7 PM ET, join us for the next session of our Effective Communication Series,
Making Most of the Hybrid Work Environment
! Learn ways to improve virtual and in-person meetings in the hybrid work environment from our series host, Michael Kim, a marketing expert, entrepreneur, experienced public speaking mentor and speaker, and a passionate advocate for AAPI representation.
NAAAP DC
GIVEAWAYS!
WE WANT TO HEAR
FROM OUR NAAAP DC MEMBERS!
There is still time complete our quick survey and be entered for a chance to win a prize! This is KEY information that will help us give you a better member experience. Your thoughts and opinions are valued and will help our Leadership Team continue furthering our mission of building a community of leaders!
CALLING ALL DOG LOVERS!
THIS ONE IS FOR YOU!
We honored Mira Kim, owner of Pawtiques, in our March Newsletter to celebrate Women's History Month. This month we are offering a giveaway for a grooming service valued at $75.00! Be on the lookout for a post on Instagram.
It was so great seeing many of you this past month! Here is a quick recap of our events!

We kicked off our Women's History Month celebrations with a virtual event on Women in Leadership with Roy Hartsfield, who shared her powerful story and experiences in leadership. We held a bar crawl celebrating the successes of two Asian female business owners in D.C. Thank you to Candice Wise-Norris of Death Punch, Shibuya Eatery, and Shabu Plus, and Gracie of Town Tavern for their inspirational words and sharing with us what it means to be a strong leader. Lastly, we visited the National Museum of American History's Girlhood (It's complicated) exhibition, explored the #IfThenSheCan exhibit (got to meet Dr. Arylne Simon!), and walked around the Tidal Basin to see the cherry blossoms.

Thank you to all who attended the first event of our Diversity, Equity, and Inclusion certificate workshops on Deciphering Bias. We had very engaging and insightful discussions as we explored the different types of biases that exist.

We also had the opportunity to partner with NaFFAA on a letter writing campaign party to name the next U.S. Navy ship after a Filipino sailor named Telesforo Trinidad, who won the Congressional Medal of Honor in 1915. We had 25+ people send letters to their senators in support of the campaign!

Lastly, we were proud to help sponsor the Bataan Memorial Death March in the DMV area, honoring the heroic service members who defended the Philippine Islands during World War II, sacrificing their freedom, health, and, in many cases, their very lives. The community came out in strong force and was joined by Secretary of the Air Force Gina Ortiz Jones!
AN EVENING WITH
FRANCES PARK AND GINGER PARK
VOLUNTEER ON OUR COMMITTEES!
NAAAP DC is a nonprofit organization aimed to provide resources to the Asian and Pacific Islander (API) community. These resources are provided at low cost or free of charge to our attendees by the support we receive from community partners and corporate sponsors. All proceeds will go towards NAAAP DC Programs.
Sponsors are invited to leverage:
• NAAAP's network of 32 active and emerging chapters, diverse and talented membership, pan-Asian and pan-professional community
• Authentic experiences, thought leadership, talent, and commitment to highest performance
• State-of-the-art technologies for mentoring, online meetings, talent management
THANK YOU TO OUR LOCAL SPONSORS!https://us14.admin.mailchimp.com/templates/edit?id=10008190#