Post-crisis Recovery Is a Chance to Address Gender Inequality

''The road to economic recovery should not be across women's backs," say three counties in the state of Hawaii that have approved a feminist economic recovery plan for Covid-19 — a first for America and the world. Financial Times.
---
World Ocean Summit Calls on Private Sector to Invest in Ocean Heath
Banks, insurers, and investors have a major role to play in financing this transition to a sustainable blue economy, helping to rebuild ocean prosperity and restore biodiversity to the ocean. Learn more about the outcome of the summit: UN Environment.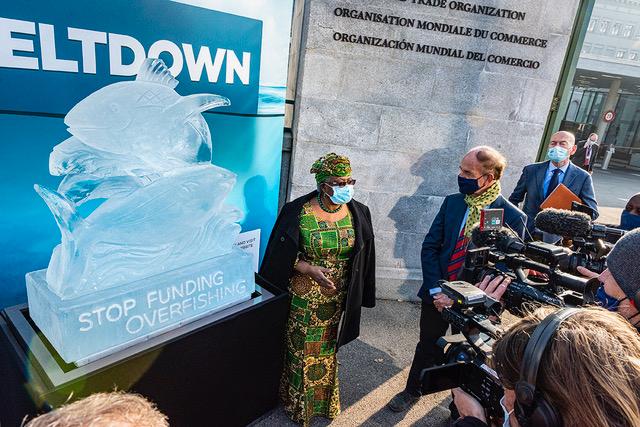 ---
'Giant Luminous Shark': Three Deep-sea Sharks glow in the dark discovered
Scientists studying sharks off
New Zealand
have discovered that three deep-sea species glow in the dark – including one that is now the largest-known luminous vertebrate.
Theguardian.com
---
Detecting Deforestation in near Real-time
World Resources Institute's Global Forest Watch can now track deforestation shortly after it occurs despite being obscured by cloud cover. The functionality will greatly improve efforts to monitor tropical deforestation and degradation. Mongabay.

---
WWF Joins Push for Bolder Corporate Action on Climate Policy
On 1st March 2021, the CEOs of 12 environmental groups, including WWF, issued a public letter to companies urging them to more actively advocate for climate policy. The letter specifically urges companies to publicly support an ambitious national goal under the framework of the Paris Agreement and to embrace the principles outlined in the AAA Responsible Policy Framework to guide their climate advocacy. WWF.

---
Global Seafood Giant commits to 100% transparency in its International Tuna supply chain by 2025.
As ocean ecosystems continue to face unprecedented pressure Thai Union, one of the world's largest seafood companies, has partnered with leading global conservation organization The Nature Conservancy (TNC), on a pioneering commitment to full supply-chain transparency in its global tuna supply chains. Nature.org.

---
Why the World's Most Well-known Brands are joining together for Nature

WWF will join some of the world's best-known corporations, NGOs and sports teams in removing nature from their branding. WWF's panda will disappear (from its logo) for the first time in 60 years and for a good cause. WWF.

---
How the Loss of Soil is Sacrificing America's Natural Heritage
A new study points to a stunning loss of topsoil in the Corn Belt — the result of farming practices that have depleted this once-fertile ground. Beyond diminished agricultural productivity and more carbon in the atmosphere, it is a catastrophic loss of an irreplaceable resource Environment 360.

---
In the Atlantic Ocean, Subtle Shifts Hint at Dramatic Dangers
The warming atmosphere is causing an arm of the powerful Gulf Stream to weaken, some scientists fear. New York Times.
---
Just 7 Commodities Replaced an Area of Forest Twice the size of Germany Between 2001 and 2015.
Cattle, oil palm, soy, cocoa, rubber, coffee and plantation wood fiber — accounted for 26% of global tree cover loss from 2001 to 2015. WRI