To approximate the whole thing in a vague way gives you a feeling that you've more or less touched the thing, but in this way you just lead yourself toward confusion and ultimately you're going to get so confused that you'll never find your way out.

-Bill Evans-
Design implies intent. However, when we are missing the holistic perspective, intentional solutions at a micro-level create unintentional consequences to the larger system. A shadow Design emerges, circumventing the Design process at the system-level and leaving us with a systemic solution that only vaguely touches on the fundamental problems that the system must solve.

Issue 4. January 2017
design & convenience
"Convenience!" is humankind's resonating call, a projection of entitlement that carries brazenly through our environment & drives technology bucking headlong. It is the value for which our systems are optimized.
The results are profound. The world's knowledge at our fingertips. Packages tracked to your doorstep. Morning breakfast in 60 seconds. All the news you might care about in one, continuous stream.
It is a world in which the promise of technology is being fulfilled. It is, indeed, making our lives easier, allowing us to do more with less individual effort; to have more with less toil. And, given our current course, this is only the beginning.
But, what does it mean for humanity when a life-of-ease is our ultimate goal, our defining value? Are we any more fulfilled than the generations before? Is the world closer to what they had dreamed it would be for our children?
A hesitation.
In the inevitable rush forward, it is the external force of our driving values that give this inertia its direction. Convenience, in economic terms, is about reducing cost. When work becomes more convenient, what we once did in a week, now takes two hours. A tremendous benefit for sure. But, it is critical to remember that to reduce cost is to also reduce value. In this way, the benefit is exploited. The savings in work is lost to the expectation of increased production and we become slaves to our own convenience.
A vast technology has been developed to prevent, reduce, or terminate exhausting labor and physical damage. It is now dedicated to the production of the most trivial conveniences and comfort… Moreover, because the technology cannot be made available to everyone, our trivial gains mean costly losses for others.
- B.F Skinner, Reflections on Behaviorism and Society, 1978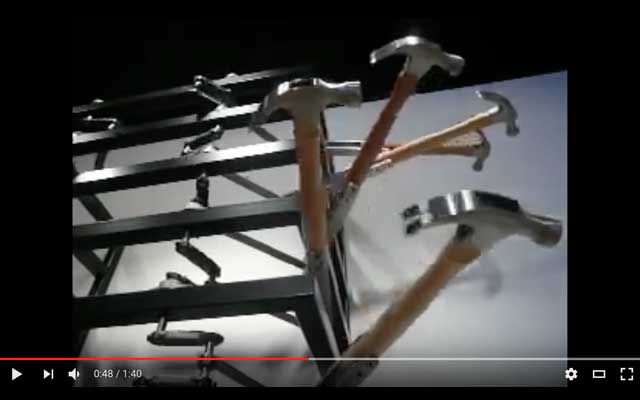 Chris McMullen's Modern Convenience
'We have our beliefs, our morals, our instincts. We have our dislike of douche bags, our mistrust of bad behavior. We have all that. But in the end it turns out that if something's 10% cheaper and 5% faster, we'll give it all up quicker than we can order a sandwich.' Convenience, in other words, makes hypocrites of us all.
Convenience Makes Hypocrites of Us All, UXMatters, 2015
We were not made in its image
but from the beginning we believed in it
not for the pure appeasement of hunger
but for its availability

From Convenience, W.S Merwin, 2012
The customers want convenience and value for their money. They want ease of use, emotional appeal. But the computer companies are all teenagers, resisting the pressures to grow up. Too bad. The customer is not well served.
Donald A Norman, reacting to the state of tech design in 1998
we are sure that it is saving something
we consider it our personal savior
all we have to pay for it is ourselves

From Convenience, W.S Merwin, 2012
"The positive results that go hand-in-hand with providing customers unsurpassed convenience simply can't be ignored. According to the Adobe Digital Index (ADI), conversion rates afforded by today's smartphones skyrocket when retailers offer their customers digital wallet payment options, as opposed to limiting them to credit and debit card transactions."

How to Improve Customer Convenience in the New Economy by Marcel Boucher for the Adobe Digital Marketing Blog, 2015

"I hope that my generational peers and I can continue to be self-critical, reconsider these tendencies [towards convenience] and, as we grow in age and ascend to the ranks that the boomer generation is beginning to relinquish, make thoughtful choices that will create a more just America and, one day, help us to 'teach (our) children well.'"

Grant Wycliff in dialog with his father in pages of The Chicago Tribune, with optimistic outlook on overcoming the drive for convenience, 2014

"So I say, slacktivist schmacktivist! If I've learned one thing in my journey as a young feminist so far, it's that feminism is full of passionate individuals and the internet is only another tool we can use to smash the patriarchy."

Emily Butler for Feminist Campus, Cyberfeminism: Activism or Slacktivism?, 2013
Our world is designed through our actions and inactions, ignorance and enlightenment. With this newsletter, we strive to provide some of the context necessary to understand the largest problems facing the world today. We are all implicit in this mess.
There is absolutely no inevitability as long as there is a willingness to contemplate what is happening.
Marshall McLuhan, The Medium is the Massage