To approximate the whole thing in a vague way gives you a feeling that you've more or less touched the thing, but in this way you just lead yourself toward confusion and ultimately you're going to get so confused that you'll never find your way out.

-Bill Evans-
Design implies intent. However, when we are missing the holistic perspective, intentional solutions at a micro-level create unintentional consequences to the larger system. A shadow Design emerges, circumventing the Design process at the system-level and leaving us with a systemic solution that only vaguely touches on the fundamental problems that the system must solve.

Issue 3. December 2016
design & anonymity
Anonymity —or to be made indistinguishable— takes many forms in our world. In the pseudonym or alias; in the lost individuality of a mob; in the perceived honesty of the suggestion box; in the reduction of individuals into stereotypes, labels, users, or market-segments; in the coerced conformity of unstated expectations; in the complexity of a system that obscures the individuals responsible; and in the quantified abstractions of people into Big Data.
It is a state in which one has abandoned one's identity —one's being— to an abstraction. It is to become faceless, to be free of history and idiosyncrasies, and in many aspects, to become a myth. It is in essence to, however subtly, sever oneself from truth, and —through human interaction— perpetuate falsehood & romance. It can also, ironically, be a last refuge to find real human connection in a world that lacks forgiveness, compassion, and freedom.
As anonymity is baked into our technology, discourse, and everyday experience as if it were a basic human right, it seems worthwhile to ponder what this curious state means for being human. What do we gain and at what cost? What purpose does it serve?
It is impossible, after all, to be friends with a mob: they are simply a cloud of faces bearing witness to romance.
-James Baldwin, A Question of Identity , 1955-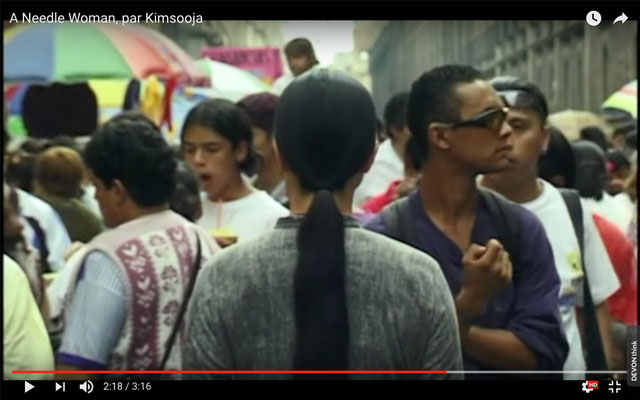 In the elaborations of her anonymity, Kim presents a sensibility acutely aware of the warring contradictions between her desire for an erasure of self and the kind of resolve necessary to confront the environment she so eloquently, albeit silently, strives against.
- Jonathan Goodman in Conditions of Anonymity: The Performance Art of Kim Sooja -
A new report from the UK's Government Office For Science warns that the explosive growth in artificial intelligence, driven by Big Data, could mean that anonymised individuals in datasets might be extraordinarily easy to re-identify.
Martin Anderson's recent article for The Stack
| | There is something that happens when you write an emotion down, then leave the words somewhere for someone else to find |
| --- | --- |
There are so few avenues left, in our all-seeing, all-revealing digital world, for artistic mystery of the true kind —mystery that isn't concocted as a publicity play but that finds its origins in the writer's soul as a prerogative of his or her ability to create. That kind of mystery has a corresponding point in the soul of the receptive reader.
Alexandra Schwartz's contemplation of the power of author's anonymity, The "Unmasking" of Elena Ferrante
"Doctors deal with difficult and challenging cases. Sometimes, we may wonder if we made a mistake. While it is a closed community, doctors may not want their co-workers and hospital administrators to see such conversations."

The Value of Anonymity in Online Medical Crowdsourcing Communities, Dr. Linda Girgis, MedCity News, 2014

"In an age in which engagement with artistic works has been displaced by gossiping about celebrity artists, the anonymous innovators have forced us to return our gaze to the creative product."

Ted Giogia, The New Cult of the Anonymous Artist
Our world is designed through our actions and inactions, ignorance and enlightenment. With this newsletter, we strive to provide some of the context necessary to understand the largest problems facing the world today. We are all implicit in this mess.
There is absolutely no inevitability as long as there is a willingness to contemplate what is happening.
Marshall McLuhan, The Medium is the Massage