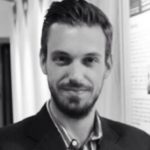 Dimosthenis Pavlou has successfully defended his PhD dissertation titled: Traffic and safety behaviour of drivers with neurological diseases affecting cognitive functions. This PhD thesis was carried out at the Department of Transportation Planning and Engineering at the School of Civil Engineering of the National Technical University of Athens under the supervision of Prof. George Yannis. More specifically, the impact of brain pathologies on reaction time, accident probability, driving errors, and driving performance was under investigation. A large-scale driving simulator experiment was carried out, comprising a medical/neurological and neuropsychological assessment of 225 drivers, and a set of driving tasks for different scenarios. An innovative statistical analysis methodology has been developed and implemented, based on Regression Models, Principal Component Analysis and Structural Equation Models.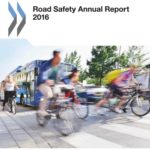 The International Road Traffic and Accident Database (
IRTAD
) of the International Transport Forum (
ITF/OECD
) published recently the full version of the
Annual Report 2016
, which comprises a synthesis of the main trends and road safety indicators for the year 2014 and preliminary data for the year 2015. It presents longer-term trends in order to better understand the developments taking place in the different countries. While the 32 IRTAD member countries made good progress in reducing road deaths in the first half of the UN Decade of Action – the number of
road fatalities fell by 8.8% between 2010 and 2014
– this positive trend faltered in 2015 when the number of road deaths increased in at least 19 countries, while only nine countries managed to reduce or stabilise their road death toll in 2015. Detailed validated reports for each country are illustrated in the full version of the IRTAD Annual Report. NTUA has contributed to the detailed report for Greece.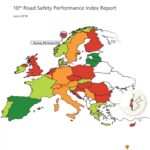 The
European Transport Safety Council (ETSC)
has published the
PIN Annual Report
at the tenth edition of
PIN Annual Conference
on 20 June 2016, in Brussels.
2015 was the second consecutive poor year for road safety
, 26,300 people lost their lives on EU roads in 2015 compared to 25,970 in 2014, representing an increase of 1%. Out of the 32 countries monitored by the PIN Programme, as many as 22 saw an increase in the number of road deaths between 2014 and 2015. Across the EU28, road deaths were cut by 17% between 2010 and 2015, equivalent to a 3.6% average annual reduction. A 6.7% year-to-year reduction is needed over the 2010-2020 period to reach the target through constant progress in annual percentage terms. Yet the increase in 2015 means that the number of road deaths has to be reduced at a much faster average pace of about 9.7% each year between 2016 and 2020 for the EU to be on track for the target. NTUA contributed actively to this ETSC
PIN Annual Report
.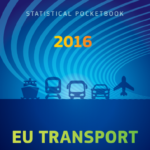 The Directorate General for Mobility and Transport (DG Move) of the European Commission released the Statistical Pocketbook 2016 'EU Transport in figures'. In this Statistical Pocketbook, key road safety Tables are contained, together with several other Tables on transport statistics, providing a complete picture of current trends in transport in Europe. Data on road fatalities for the EU member states and associate countries allow for time series comparisons and country rankings.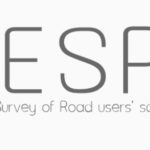 The results of the European Survey of Road users' safety Attitudes (ESRA) were presented at a targeted Conference that took place with great success on 20 June 2016, in Brussels. This Conference was organised by the Consortium of 17 Institutes that participated at the survey under the coordination of the Belgian Institute for Road Safety (IBSR).

During the conference, the Main Results of the ESRA Survey 2015 were presented together with the first six Thematic Reports on European drivers attitudes towards:
Speeding
Driving under the influence of alcohol & drugs
Distraction & fatigue
Subjective safety & risk perception
Enforcement & support for road safety policy measures
Seat belt and child restraint systems
NTUA presentation concerned: ESRA Thematic Report – Speeding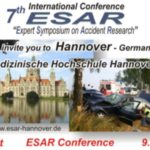 The 7th International Expert Symposium on Accident Research (ESAR) took place with great success in Hannover on 9-10 June 2016. ESAR is organised by the Medical School of Hannover, the University of Technology of Dresden and the Federal Highway Research Institute of Germany and it is a scientific colloquium which can be seen as a platform for exchanges of information on accident research issues. Representatives from authorities as well as from medical and technical institutions came together to discuss new research issues and exchange experiences on accident prevention and methodologies of accident reconstruction. The goal of ESAR was to give the opportunity to all kind of studies on Accident Investigation Methodologies, Accident Analysis, Active and Passive Safety, Injury mechanisms and Injury Prevention to an audience of experts from government, industry and other researchers from all parts of the world.

NTUA presentations concerned: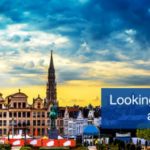 The 15th International Alcohol Interlock Symposium organised by the Traffic Injury Research Foundation (TIRF) and the European Transport Safety Council (ETSC), took place with great success on 13-15 September, in Brussels. Alcohol interlock programs have expanded greatly in recent decades. Today, programs combine technological advances with more tailored and efficient monitoring strategies to deliver high-quality services. The theme of the 2016 Symposium is "Efficiency Through Automation". As alcohol interlock technology evolves, it becomes increasingly important to understand how intelligent devices can be embedded in sophisticated vehicles and linked to database systems to make services more accessible and enhance road safety.

NTUA presentation concerned: Alcohol Interlocks & Building Capacity for Automated Solutions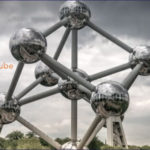 A Road Safety Workshop was organised by the SafetyCube EC funded project, regarding the first viewing of the SafetyCube European Road Safety Decision Support System (DSS). It took place with great success at BRSI in Brussels, on 27 September 2016. The purpose of the workshop was to illustrate how existing road safety knowledge can be collected, structured and distilled into the SafetyCube DSS that can be queried in terms of safety risk factors and potential countermeasures, including crash scenarios. Key road safety stakeholders had the opportunity to watch the methodology followed and test the SafetyCube DSS prototype, allowing vivid discussion for its further improvement.

The NTUA presentations concerned

Design of the European Road Safety Decision Support System

SafetyCube – Infrastructure risk factors and measures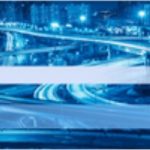 The World Conference on Transport Research (WCTR) organised by the WCTRS and the Tongji University took place on 10-15 of July 2016, at Shanghai, China. The programme included more than 1.170 papers presented in oral and poster sessions. The authors from 65 countries ensured WCTR 2016 as a truly international event. The aims of the WCTR Conference were to offer a unique opportunity to bring together experts in all aspects of transport research, from all parts of the world and to stimulate the exchange of ideas in the broad field of transport research.

The Conference Key Findings are now available.

NTUA presentations concerned:

Human factors of pedestrian walking and crossing behaviour

Road safety data and priorities in South-East European regions

Review of driving performance parameters critical for distracted driving

Assessing the driving performance of drivers with cerebral diseases

Investigation of road accident severity per vehicle type

Texting on Young Drivers Behavior by Means of Multivariate Copulae Analysis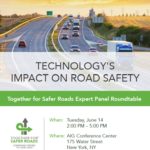 The Private Sector Global Coalition Together for Safer Roads (TSR) composed by 16 leading global companies has organised on June 14th, 2016, in New York a Round Table Discussion on Technology's Impact on Road Safety. The Members of the TSR Coalition Expert Panel initiated the discussion on three key domains: a) The Technology Horizon and the People/Technology Interface, b) Using Information and Communication Technologies – and More – to Make Roads Safer and c) Policy and Partnerships Supporting Road Safety Technologies. This Round Table Discussion demonstrated the high potential of technology for safety improvement as well as the role of the Member Companies to promote and exploit this potential.
NTUA presentation concerned: Star rating driver safety behaviour by the use of smart technologies

The Annual Road Safety Conference of the
Bar Ilan University
, took place with great success in Tel-Aviv on 7 July 2016. More than 100 road safety experts and stakeholders have discussed on
current developments and challenges on road safety worldwide
, with emphassis on driver behaviour and respective road safety measures. NTUA presentation concerned: Risk factors, driver behaviour and accident probability. The case of distracted driving.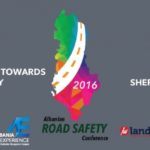 The Benchmarking Albania towards EU Road Safety Conference organised by AVIS Albania and Trans Andriatic Pipeline (TAP) took place on 6 July 2016, in Tirana. The Conference provided a platform for private stakeholders, government officials and international entities operating in Albania to raise awareness regarding the importance of road safety. Discussions also focused on current road safety reality and challenges and, above all, promoting ideas for new initiatives and policies.

NTUA presentation concerned: Road Safety Investments and Interventions in South East Europe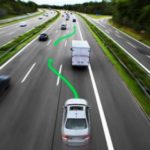 A Diploma Thesis titled 'Investigation of declared and revealed driver behaviour using vehicle diagnostics' was presented by Natalia Vittoratou in July 2016. The aim of this diploma thesis is the correlation of stated and revealed driver's behavior with the use of vehicle on-board diagnostics (OBD) data. On that purpose, a large data set from a driving behavior experiment was exploited, which recorded continuously (per second during a period of three months) the behaviour of 17 drivers. These data concerned harsh acceleration and braking, average traffic speed and mileage travelled. Drivers' stated behaviour was investigated through a corresponding questionnaire. For the data analysis, a mathematical statistical model was developed using linear regression. The results demonstrated a
strong correlation between harsh brakings and accelerations on one hand and the number of accidents, the annual income and the declared frequency of harsh braking
on the other.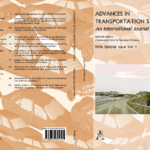 A paper titled "Which are the effects of driver distraction and brain pathologies on reaction time and accident risk?" authored by Dimosthenis Pavlou, Panagiotis Papantoniou, Eleonora Papadimitriou, Sophia Vardaki, George Yannis, Costas Antoniou, John Golias and Sokratis G. Papageorgiou is now published in Advances in Transportation Studies an international Journal. A driving simulator experiment with 140 participants (out of which 109 were patients) was carried out by an interdisciplinary research team of neurologists, neuropsychologists and transportation engineers. The brain pathologies examined include early Alzheimer's disease, Parkinson's disease, and Mild Cognitive Impairment. A statistical analysis was carried out by means of mixed generalized linear modelling and the results indicated significant differences between the driving performance of healthy drivers and patients. Patients with cerebral diseases reacted significantly slower at unexpected incidents than the healthy ones and were more likely to be involved in an accident. The mobile phone use had a significant negative effect on both reaction time and accident probability.